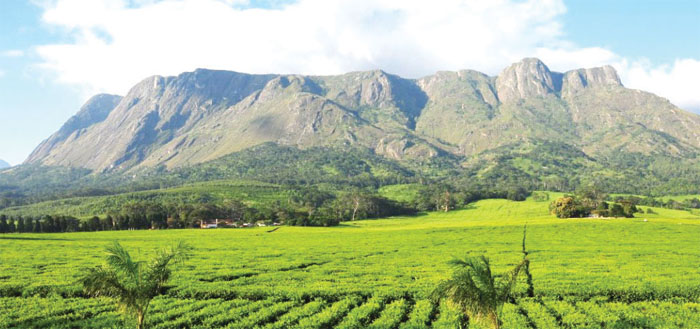 The impressive Mt. Mulanje standing at over 3,000 metres above sea level is the highest mountain in tropical southern Africa. The unique ecology of this isolated inselberg has been recognized by its proclamation as one of few International Biosphere Reserves south of the Equator.
Mulanje Mountain is more than barren rock. Covering an area of 640,000 hectares within both Mulanje and Phalombe districts, the reserve has a diverse range of ecological zones from rainforest to alpine, with a very rich range of habitant endemic plant and animal life. Globally it is an ecological site.  The famous Mulanje Cedar (Widdringtonia Whytei) dominates the high altitude forest and is Malawi's national tree. The forests and woodlands are vital for watershed protection and is the catchment of headwaters for nine strong rivers in the two districts.  The mountain also represents an important source of resources like firewood, grass (for thatching), water, timber, animals, and fruits.  Close to a million people have their livelihood dependent on resources from the Mountain and the Reserve.  To underscore the importance on this resource, the government of Malawi gazetted Mulanje Mountain Forest Reserve as a protected area in 1927.
What is on Mt. Mulanje?
Mt Mulanje is scenically spectacular, the vistas of rugged peaks and plunging waterfalls, are complimented by the breathtaking panoramas over the surrounding plains. The great variety of wild flowers makes Mulanje a visual delight anytime of the year. During the rains from December to April, the plateaux are a riot of colour from the abundant orchids everlasting and gladioli among many others.
Animals may also be seen of the mountain, though most are shy and elusive like the rarely seen leopard, klipspringer, bushbuck, and forest duiker. The birdlife of this afro-montane habitat is rich with many specials to be seen from the impressive crowned and black eagles to Malawi's only endemic, the yellow-throated apalis. There are two dwarf chameleons, several geckos and skinks, which are found on Mulanje and, in the streams, fish have been found that also occur nowhere in Malawi.
For lovers of the outdoors, Mulanje offers spectacular hiking, scenery, bird watching, wild flowers, peaks to climb, fly-fishing, invigorating swimming and for the really adventurous, serious rock climbing – the west face of Chambe peak hosts the highest rock climb in Africa with some 1,700 metres of technical climbing.
For visitors daunted by the prospect of climbing many thousands of feet onto the mountain, heavily laden with supplies and perhaps apprehensive about navigating the trails and climbs, help is at hands. Strong and willing young men from the local villages will carry your pack for a modest charge and some who know the mountain intimately, can guide you from hut to hut or to the summits of the highest peaks. If you are not familiar with the mountain or wish to climb any of the peaks, it is strongly advised to hire a guide.